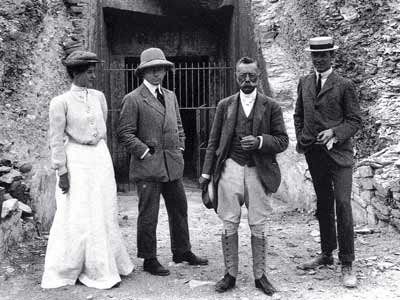 Theodore Davis

THEODORE DAVIS (the man without a hat in the image) was an elderly and wealthy financier from Newport, Rhode Island and was one of the key figures in the history of archaeological exploration in the Valley of the Kings. Theodore Davis had wintered regularly in Egypt since 1889, sailing up and down the Nile on his dahabiya, 'Bedawin', with his companion Mrs Emma B Andrews (who kept a diary of their day-to-day activities). But he came to digging only late and then by chance.

Davis's excavations are among the most important ever carrier out in the royal valley. As with Loret, Davis's published record did not do justice to his efforts. In fact his reports have many ambiguities, errors and omissions. They are supplemented to some extent by a handful of manuscript sources, a few photographs, personal diaries and letters and a sketch map of work begun by Edward Ayrton in 1905-1906.

Davis's interest in excavations seems to have been piqued by Howard Carter, on the look-out as usual, for other people's money to finance his archaeological plans, especially in the Valley of the Kings.

As Carter recorded in his unpublished autobiographical 'sketches'. 'Davis often told me that he would like to have some active interest during his sojourns in Upper Egypt. Thus… I put the following proposition to him., The Egyptian Government would be willing, when my duties permitted, for me to carry out the researches in the Valley of the tombs of the Kings on his behalf, if he would cover the costs thereof, that the Egyptian Government in return for his generosity would be pleased, whenever it was possible, to give him duplicate antiquities resulting from these researches. At the same time I told him of my conjecture regarding the possibility of discovering the tomb of Tuthmosis IV…'.