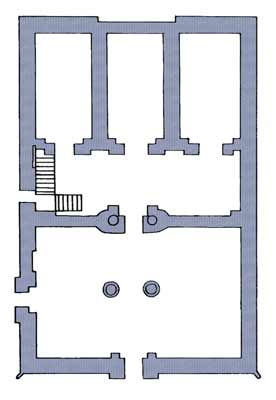 Ptolemaic temple of Hathor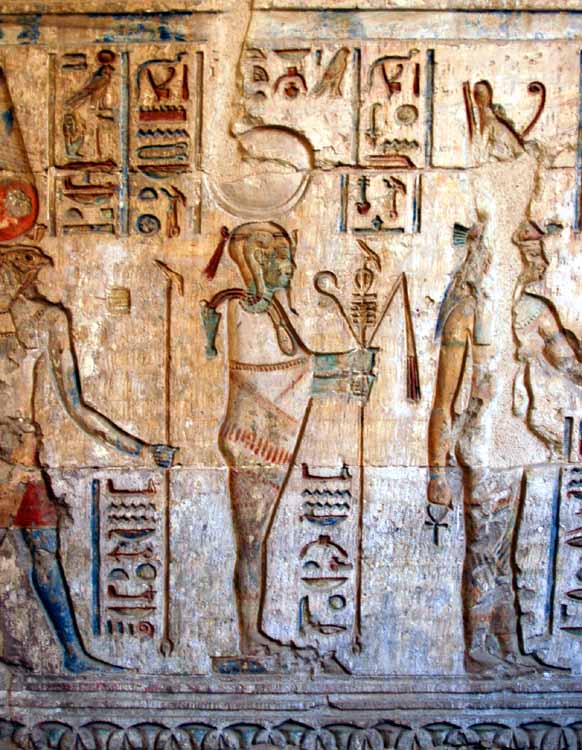 Directly to the north of the village is the small Ptolemaic temple dedicated to Hathor. It is also dedicated to Maat, Amenhotep son of Hapu and to Imhotep. During the Coptic period it was converted into a monastery, which ironically gave it protection when other temple were defaced.
The compound embraces the sites of earlier temples and the remaining Ptolemaic temple itself is fronted by a staircase of Ramesses II. The temple, built in the 3rd century by Ptolemy IV and enhanced by Ptolemy VI and also by Ptolemy XI. The temple is in near perfect condition.
The temple's style is very simple, as the plan shows. The columned hypostyle hall opens into a narrow vestibule before three sanctuaries. The hypostyle hall has two pillars. The vestibule, which included the stairway to the ceiling, has scenes of Ptolemy IV offering to Hathor in the form of a Cow and to the right he is offering to various gods.

The three sanctuaries, from left to right, are dedicated to Amun-Sokar-Osiris, Hathor-Maat and Amun-Re-Osiris. Above the middle door, Hathor-Maat, is a relief of the multi-headed Hathor.
The Amun-Sokar-Osiris sanctuary has a bass-relief scene of the Osiride judgement. This is more commonly found in tombs than in temples. Here, as in the temple of Hatshepsut at Deir el Bahri, chapels were also dedicated to both Imhotep and Amenhotep son of Hapu.
A stairway leads from the left side of the vestibule to the temple's roof.
Hathor was clearly popular with the villages of Deir el Medina. Many of the women had the title "Songstress of Hathor" and there were a number of chapels dedicated to her in the village. Sety I built a temple to her, as did his son Ramesses II. This was replaced by the present Ptolemaic temple long after the worker's village had been deserted. Excavation in the temple uncovered a statue of Mertseger, the snake goddess who was another form of Hathor.