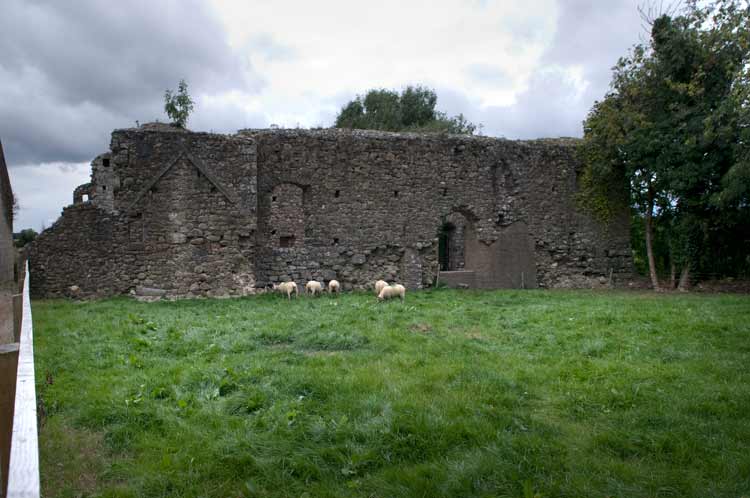 Rathumney [Gaelic Ráth Omna, ring-fort of the tree] 'Castle' and house, County Wexford, is a rare example of a Cistercian grange building which was constructed as a hall-house. It dates to the 13th or 14th centuries and very little is known about any of its history. It is a long rectangular structure which is two stories high and which had a small turret added some time later in its medieval history. The lower floor was primarily used for storage, a kitchen and servant's accommodation and the upper floor for Cisterci and public gatherings. It is possible that there were small private apartments at either ends and the dressed stone, which is was made from, has largely disappeared (some of it was removed by OPW to maintain Tintern de Voto Abbey).
One or more members of the Barry family lived in Rathumney during the 14th century and by 1427 John Barry was in residence. This secular occupation was common in the 14th century as the Cistercians had less and less lay-brothers and responded to this change by leasing their granges, which were free from tithes, as working farms outside of the Order. One of Bishop Allen's [bishop of Fethard] sons lived at Rathumney and at the Cromwellian confiscation Rathumney became untenanted. in 1636 Francis Alcock, thought to be the son of Rev. John Alcock of Carnagh, leased the court farm from Sir Alan Colclough (holder of Tintern de Voto) and later the Prendergast family took over the lease. The Foley family, current owners of Rathumney, are sure that King John II stayed overnight at Rathumney on 2nd Jul 1690 on his way to a ship in Duncannon harbour while travelling to France. Rathumney Castle was demolished about 100 years ago leaving the house, or court, in its current form.
The house or court was attached the a farm house owned by the Foley family until the 1970s when OPW, during conservation work, detached the farm house from the grange building and also demolished outbuildings including the buttery. The farm house quickly became un-inhabitable and the Foley's moved to a different farm house and their family continue to farm the land.