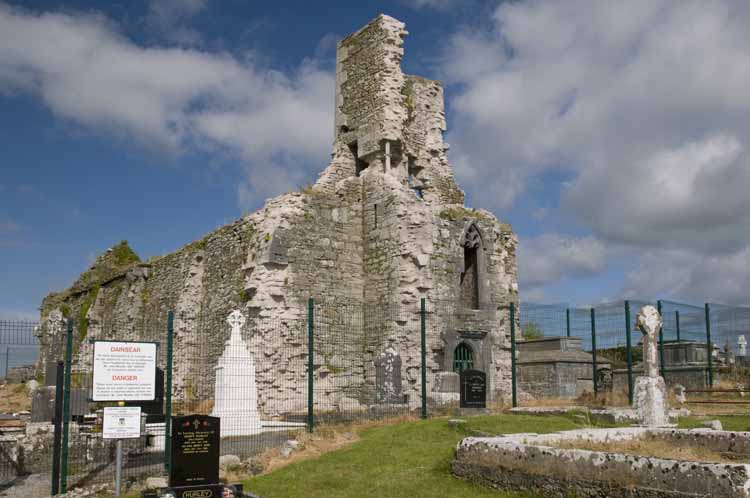 The Cistercian Abbey of Abbeydorney, County Kerry, Ireland - which is known as Odorney or Kyrie Eleison - was founded in 1154 as a daughter house of Monasteranenagh.
Christian O'Conarchy, the first abbot of Mellifont Abbey, retired to the abbey in later life, where he died and was buried in 1186. In 1227 the abbot of Abbeydorney was deposed for his involvement in the 'conspiracy of Mellifont' (1216-28). In 1450 and again after 1460, the abbot of Abbeydorney complained to the pope about unjust subjugation and unlawful payments enforced by James de Geraldinis, earl of Desmond, and others. In 1453 the abbot was accused of misrule by a monk of Monasteranenagh. Following the Dissolution, Edmund, lord Kerry, was granted Abbeydorney, and other monasteries, and was created Baron of Odorney and Viscount of Kilmaule. However, the changes imposed by the Dissolution had little immediate impact on Abbeydorney; the monastic land became secularised, the monks themselves were not dispersed and the abbot remained active until 1577 when he was shot at Lixnaw Castle.
The site of the monastery is now used as a graveyard and the abbey church (94 by 23 feet) is crowded with burials and cloister garth (approx. 85 feet) is covered with relatively modern tombs and monuments. Ironically the burials have preserved the remains of the abbey which otherwise may have been allowed to fall into total ruin. The primary remnant is the abbey church, which was rebuilt during the 15th century as an isle-less structure, with its projecting western tower, all of which dates from the 15th century. The western doorway is formed from grey limestone, which is finely carved, as is the two-light window with curvilinear tracery on the upper floor of the western tower.
Sources:
Stalley, R. 1987. The Cistercian Monasteries of Ireland, London: Yale University Press.
University of Sheffield - The Cistercians in Yorkshire Project